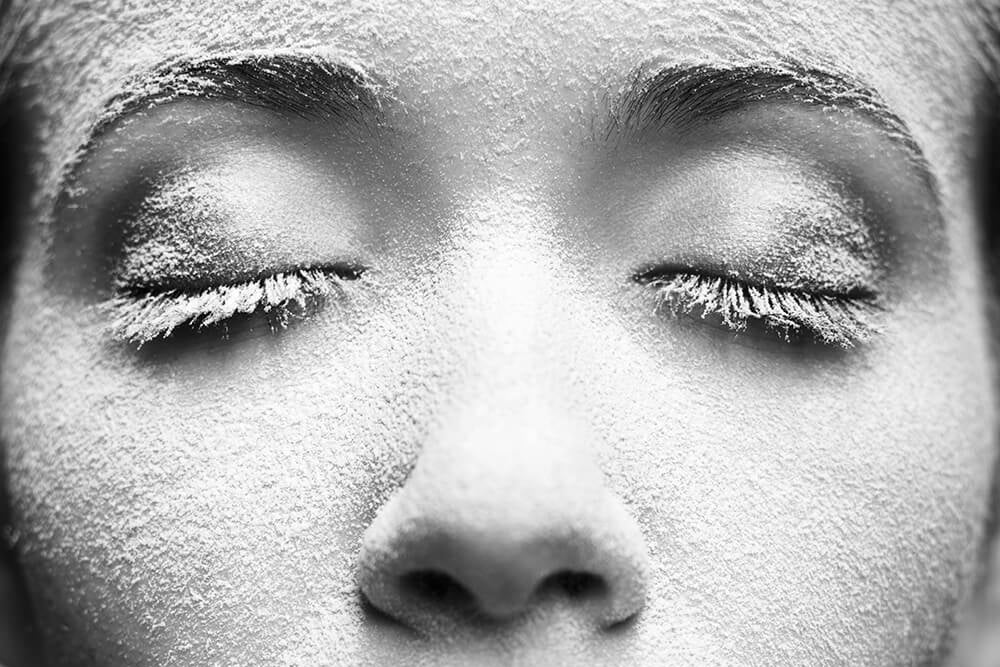 the bottom line
ah, winter: cold winds, low humidity, and dry skin. we can't help with the first two items, but we do know a bit about that dry stuff. winter skin is that unhappy, shivery state when your skin becomes excessively dry, sensitive, and sometimes even cracked. but fear not – we've got the inside scoop on how to gear up your skin for the cold and protect all of your most important layers.
first layer: the science of winter skin
What is winter skin? Cold temperatures and low humidity levels result in dry air, which in turn draws moisture away from our skin. Add in cold winds and dry indoor heat, and our skin can become dry, cracked, and even bleed. But once we understand the science behind winter skin, its remedies become clear.
While the layers of the skin protect us throughout the year, it is the very surface of the skin – the epidermis – that plays an especially significant role during the colder months. The epidermis provides a barrier to infection and regulates the amount of water lost from the body through transepidermal water loss (TEWL)1. During cold weather, the humidity level drops and TEWL increases as dry air pulls moisture from the skin. When the water content of the skin drops significantly, our skin begins to dry out and becomes itchy, leading in turn to redness and inflammation.
The upper layers of the skin continually divide and renew themselves. These layers need extra attention during the winter months in order to maintain good barrier function of the skin that limits TEWL. Some of the most vulnerable skin elements at this time of year include lamellar bodies, filaggrin, Langerhans cells, and corneocytes.
Lamellar bodies, located within the stratum granulosum of the epidermis, contain lipids which are released to form a lipid barrier which helps to prevent TEWL and provide a barrier to pathogens. Filaggrin is a protein located in the stratum corneum which provides strength and stability in addition to helping keratinocytes to produce a natural moisturizing factor. Langerhans cells, located in the stratum spinosum, have an immune function as they are capable of taking up microbial antigens. If our skin barrier becomes compromised, then our Langerhans cells decrease in number, leaving our skin susceptible to inflammation and infection. Of note, ultraviolet (UV) rays can temporarily disable Langerhans cells. Finally, corneocytes, which comprise most of the stratum corneum, are fully differentiated keratinocytes. They are regularly renewed and form a critical component of the skin's barrier.2  
second layer: winter layers
Now that the science is a bit clearer, let's discuss how to care for our winter skin. Just as we adjust our clothing in the winter, how we care for our skin needs to be tweaked as well. As we've seen, our skincare routine should ideally include products that support our lipid layer and barrier function while limiting skin compromise.
Begin with a gentle cleanser. We generally favor creamy cleansers, and even more so during the winter months. Use a fragrance-free cleanser which doesn't incorporate sulfates that can dry out the skin further. If you choose to exfoliate, avoid harsh abrasives which can damage the skin's barrier. Instead, opt for an exfoliant with a fruit enzyme.
A toner helps to bring the skin's pH back into balance after cleansing, priming the skin for the next layer of moisture. When toning, avoid drying ingredients such as isopropyl alcohol and witch hazel.
The next layer, hydration, is easily the most essential component of winter skin care. Facial and body oils are especially helpful at this time of year, as they provide an extra layer of hydration which is often badly needed by our skin. We recommend layering them over a rich moisturizer, morning and night, if you're particularly dry. Areas that don't generate sebum, such as the palms and soles of the feet, tend to dry out more easily, so lather on a little extra here. Moisturize frequently; you may find yourself needing to reapply product to your lips and hands throughout the day. The lips in particular are vulnerable, as they lack sebaceous glands, and tend to become dry more easily than anywhere else.
Finally, don't forget your sunscreen. Despite the achingly short days and long nights, your skin is still exposed to ultraviolet rays. Protect it with a sunscreen with an SPF of 30 or higher. Skiing at high elevations? Consider re-applying frequently. It's quite possibly the easiest and most effective way to significantly lower your risk of skin cancer and limit photoaging.
third layer: extra winter layers
A few more tips will help to keep your skin hydrated and healthy during the winter months. First, be sure to maintain your hydration. While there's a tendency to rely on hot caffeinated beverages during the cold months, caffeine will quickly pull water from your body. So, gravitate towards water and hot herbal teas with no or low caffeine; both your skin and body will thank you for it.
Second, limit the hot showers by bathing in warm water; water evaporates quickly when leaving a hot shower, taking moisture with it.
Finally, consider adding a humidifier to your bedroom to replace the moisture that's lost by heating systems.
fourth layer: how we do it
We always start with our rice bran & pomegranate facial oil, a botanical blend of oils to gently lift oil and makeup, followed by our oatmeal cleansing milk, a sulfate-free cream cleanser that layers colloidal oatmeal with milk protein to hydrate and gently exfoliate.
Our lotus flower & rosewater toner is an alcohol-free blend of active botanicals, including lotus flower, rosewater, gotu kola, and burdock root. 
For our lips, we prefer lip butters, which are creamier and thicker than lip balms. they generally incorporate wax, butter, and oils to create a product that can be layered onto the lips as needed. our lip butter incorporates oils and beeswax to hydrate and provide an occlusive layer that protects your pucker. 
Our lotus & lychee facial crème incorporates extracts of lotus flower and lychee fruit with plum oil, gotu kola, and elderberry to hydrate, brighten, and nourish your skin while protecting and replenishing the lipid layer. Layered on top is gorgeous ylang ylang essential oil. 
All this and more at www.anokhaskincare.com .
Add a layer by joining our newsletter: http://bit.ly/anokha_layers 
xx
anokha
references: 
Proksch E, Brandner J, Jensen JM (2008). The skin: an indispensable barrier. Experimental Dermatology. 17(12): 1063–1072.
oatmeal nourishes the inside of our bodies – but it's also a wonderfully gentle and effective ingredient for our skin. read on to discover more about why this beauty is too good to save for breakfa...
read more
it's one of the stars in our new lotus & lychee facial crème and white tea & lychee toner – lychee fruit. small and sweet, this diminutive beauty is a powerhouse of activity. from scavengin...
read more