The alluring rose is a wonderful source of beauty remedies.  As one of the most ancient flowers in the world, and is believed to have been cultivated in India 5000 years ago.  The word "rose" is derived from the Latin word rosa, although according to Greek mythology it was Aphrodite, the Greek goddess of love and beauty, who gave the name "rose" to this flower.  There are many species of rose, including Rosa damascena cultivated in Turkey, India, Pakistan, Russia, China, Bulgaria, and Iran, and Rosa centifolia which is grown in France, Egypt, and Morocco. 
The rose has a long cultural history.  Roman emperors are said to have used rose petals to perfume their baths, for the decoration of banquet halls, and for medicinal purposes. Queen Cleopatra notoriously used rose petals in her bath and on her bed for her lover Antony.  The cultivation of the rose was popular during the Han dynasty of China.  Confucius himself is said to have remarked upon the growth of roses in the Imperial Gardens, noting that the Emperor's library contained hundreds of books on roses.  Avicenna, an Arab physician, wrote of the healing benefits of rosewater prepared using rose petals in pure water under sunlight.  It is said that rose oil was discovered in India when a celebrated King held his daughter's wedding ceremony.  As a part of the wedding decoration, the moat surrounding the castle was filled with rose petals.  After a period of time, the water was noted for its sweet smell, thus inspiring the extraction of rose essential oil.  Alexander the Great was so inspired by the rose gardens during his visit to India that he reportedly introduced the cultivation of roses in Europe.
Only one rose, the Shatapattri rose ("thousand petals"), is used in Ayurveda.  Rose petals, rose essential oil, rosewater, and rose vinegar have all been prescribed for their aphrodisiac, anti-depressant, antiseptic, antiviral, antispasmodic, and antibacterial properties.  It is believed to balance Sadhaka Pitta, which controls the emotions and their effect on the heart, and Prana vata which governs the mind, sensory perception, head, chest and respiration.  Rose oil is also believed to aid the heart chakra.  For these reasons, fresh roses and its oil are often used in prayers and during meditation. 
The benefits of the rose in care of the skin are numerous.  Rose oil tones the skin. Rosewater, the distilled essence of rose petals, is not only astringent, but also has anti-inflammatory and anti-septic properties. The powder of dried and crushed rose petals also provides an astringent effect.  The rose is an essential and beloved ingredient in Anokha's Lotus Flower & Rosewater Toner, Red Sandalwood & Neem Clarifying Masque, and Ayurvedic Pitta Facial Oil.
1www.wikipedia.org
2www.ayurvedicoils.com
3www.mapi.com
Save
Save
Save
Save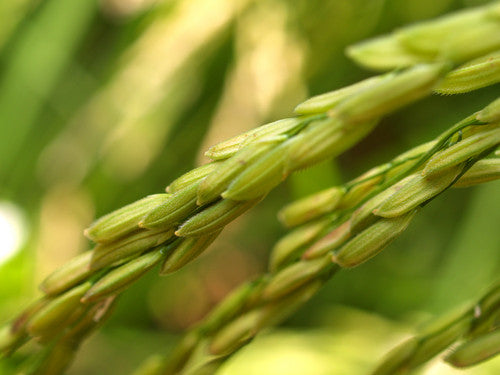 rice (Oryza sativa) is a universal food staple.  both the physical and etymologic origins of rice have been hotly debated for centuries.  wild rice is thought to have first developed in Australia, ...
read more
sandalwood (Santalum album), which has been said to bring one closer to the divine, is the name of a class of woods.  sandalwood trees are indigenous to India, Nepal, Bangladesh, Pakistan, Sri Lank...
read more