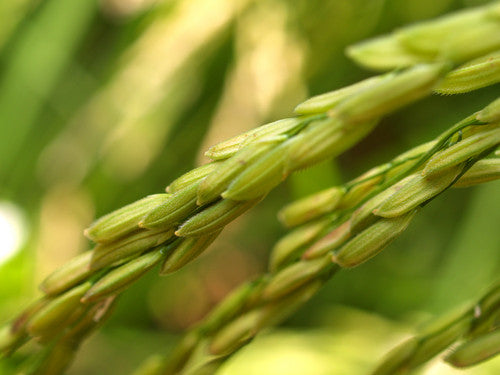 Rice (Oryza sativa) is a universal food staple.  Both the physical and etymologic origins of rice have been hotly debated for centuries.  Wild rice is thought to have first developed in Australia, and was domesticated in ancient China 8000-13,000 years ago.  From there, rice spread to Southeast Asia, India, and Nepal during the late 3rd millennium BC, to the Middle East by the 1st century AD, and eventually to Europe and the Americas through colonization.  Its cultivation is labor-intensive and requires high rainfall.  The word "rice" is derived from the Greek word oryza, and before that possibly from the Tamil word arisi.  However, there is some thought that the origins of the word are to be found in Dravidian (wariñci), Persian (vrīz), or Sanskrit (vrīhí).
The spiritual and religious uses of rice are numerous.  As a symbol of fertility, the use of rice is prominent during the wedding ceremonies of many cultures.  In Nepal, the bride presents the groom with a plate of pounded rice.  In southern India, the bride and groom are showered with rice coated in turmeric as a blessing for prosperity and spiritual well-being for the couple.
In Indonesia, Thailand, India, and Cambodia, ritual offerings are made during the different stages of production to propitiate the rice goddess.  Shrines with flowers and fruit as offerings to Dewi Sri, the traditional rice goddess, can be found in the middle of many rice fields.
Because rice symbolizes both the generosity of the gods and abundance and wealth, it is believed to be an appropriate ritual offering itself.  In Hindu worship, rice symbolizes steadfastness, dedication, and peace.  Unbroken rice is cooked with vermilion, saffron, or turmeric and kept near the shrine or altar.  A small amount is applied to the mid-forehead when a puja is completed.  During naming ceremonies, the priest will write the new name into a rice-covered tray, indicating that the new identity has been both marked into the physical works and offered to the deities.
Rice plays a large role in Buddhist tradition as well.  In some temples, a burning incense stick is placed upright in a bowl of rice.  Rice is offered daily to Buddhist monks on their daily rounds in the countries of South Asia.  As such, it is both a donation and offering.  Rice to be presented to a monk is poured into a cone of white paper, to which are added a small unlit candle, some sticks of incense and a few flowers. A thin white cotton blessing string may be wound around the candle for the recipient to tie around the donor's wrist in return. 
Of course rice has also been used in many beauty treatments around the world. It is an excellent exfoliant, and its oil moisturizes and brightens the skin while delivering powerful anti-oxidants. In addition to its value as a food, it is a valuable nutrient for the skin.  Rice powder is one of the essential ingredients in our Rice & Bamboo Facial Scrub.
1www.wikipedia.org
2www.khandro.net/nature_plants_rice.htm
Save
Save
Save
Save
the orange is the most widely cultivated fruit in the world. believed to have first been cultivated in China around 2500 BC, they were so rare that they were primarily given to emperors as tributes...
read more