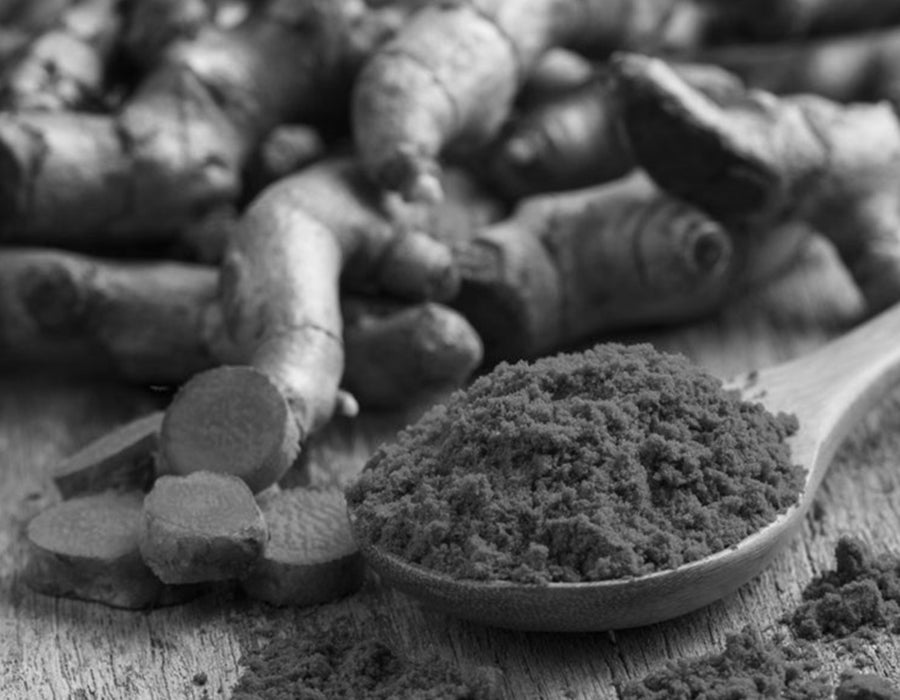 the bottom line
It's not just for colorful curries anymore - superfood turmeric packs a punch in the health and beauty department too. Aside from making a seriously delicious hot drink (anyone else obsessed with turmeric lattes?), this sunshine-hued spice boasts a wealth of benefits for mind and body. Native to South Asia, turmeric (or Curcuma longa if Latin is your thing) is a plant from the ginger family. Although it is widely used as a spice in South Asian and Middle Eastern cuisine, it's treasured for its medicinal properties as well. 
Here are 5 reasons to spice up your life with a little turmeric ...
first layer: relieves stress and lifts your mood
Happiness is undeniably critical for a healthy mind and body. Stress is an inevitable fact of life, but prolonged stress can show itself all over your skin. Luckily, this clever yellow root has natural anti-depressant properties. Curcumin, the main compound found in turmeric, has been shown to increase the production of serotonin and dopamine levels, which can help to relieve symptoms of mild depression and anxiety.
second layer: combats disease
We're used to seeing and tasting this earthy spice in South Asian food - from richly flavored curries to brightly colored rice - but the talents of turmeric don't stop there. It has been used in Ayurvedic medicine for centuries to treat disease - including indigestion, infections, liver problems, and open wounds. Modern medicine loves turmeric too, primarily for its component curcumin. Turns out that in addition to warding off nasties with its antifungal and antibacterial properties, recent studies have also supported the use of curcumin as an anticoagulant to help prevent blood clots. Turmeric has even been demonstrated to reduce disease activity in patients with rheumatoid arthritis and to interfere with the development, growth, and spread of cancer cells. Its remarkable anti-inflammatory properties have led to its use as a natural replacement for steroids in some diseases. For more information about the health benefits of turmeric and curcumin, travel here.
third layer: cleanses the chakras
Mellow yellow turmeric has long been associated with sunshine and the solar plexus chakra in ancient Tamil mythology - cleansing this chakra is thought to improve metabolism and boost confidence. The plant is also used as one of the nine components of worship of the Hindu goddess Durga, or mixed with water and formed into a cone shape to make a form of lord Ganesha, the remover of obstacles. During the Thai festival Pongal, a turmeric plant is offered to the Sun God as thanks for a successful harvest.
fourth layer: soothes inflammation
Feel like your skin is overworked and in need of a calming pamper session? Many skin problems are caused by inflammation, so it makes sense to apply an anti-inflammatory ingredient such as turmeric to combat redness and puffiness. Turmeric is also a natural antiseptic, making it a great weapon in the battle against breakouts.
fifth layer: brings good luck
Why not wear your spices for a change? Believed to be auspicious, turmeric has been used for centuries as part of bridal ceremonies. In some regions of South India, turmeric tubers are tied to the wrists of couples or a necklace prepared with turmeric paste is used as the equivalent of wedding rings. Hindu weddings observe a ceremony called Haldi, which means "yellow on the body". This takes place one to two days prior to the actual wedding and involves applying turmeric paste to the bodies of the couple by their friends. In addition to softening the skin, the paste imparts a distinctive yellowish hue to the body. We could all use a little luck.
A little plug: Turmeric is an active ingredient in anokha®'s Red Sandalwood & Neem Clarifying Masque - a clever pot of detoxifying goodness that can be used as needed for spot treatment, as a weekly masque, or in place of your daily cleanser.
All this and more at www.anokhaskincare.com .
Add a layer by joining our newsletter for secret tips: http://bit.ly/anokha_layers
xx
anokha
life in New York City can be exhilarating – the never-ending skyline, 24-hour-everything, and the sheer pulse of energy that seems to flow through the people who call this crazy place home. but the...
read more
almonds are oval-shaped bits of delicious goodness that are also ridiculously beneficial for your skin. read on to discover their secrets and gifts.
read more