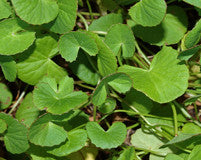 the rejuvenating gotu kola
Gotu kola (
Centella asiatica),
also known as Indian pennywort and
brahmi,
is found throughout the Indian subcontinent and Southeast Asia. The plant has slender, creeping stems, smooth round leaves, and small pink flowers.  Its principle compounds include asiatic acid, madecassic acid, and asiaticoside. Gotu kola has been demonstrated in numerous scientific studies to increase cellular proliferation and collagen synthesis.  
While it has been used in traditional Ayurvedic medicine for its sedative and memory-enhancing properties, it has become increasingly popular in the treatment of open wounds, scars, ulcers, and burns.  In fact, gotu kola is believed to bring about kaya kalp, or complete rejuvenation of the body.  We find the effects of gotu kola to be particularly rejuvenating indeed.  It is a key ingredient in our Lotus Flower & Rosewater Toner. 
ingredient focus: burdock root
burdock root is a robust and persistent weed known not only for its skin-healing properties, but also for its ability to ward off evil. burdock has small purple flowers which are underlaid with lar...
read more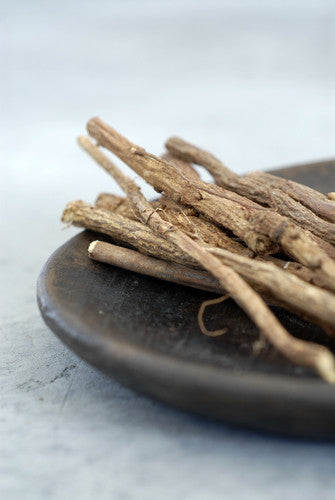 natural brightener: licorice root
licorice root (Glycyrrhiza glabra) is also known as mulethi (Hindi) or yastimadhu (Sanskrit).  it is found throughout South Asia, the Middle East, and China.  its principle constituent, glycyrrhizi...
read more