Neem (Azadirachta indica), also known as Indian lilac, is an extraordinary evergreen tree native to India, Nepal, Pakistan, Bangladesh, and Sri Lanka.  It has been used in Ayurvedic medicine for at least 5000 years for its anti-fungal, anti-bacterial, and anti-viral properties. Considered by Ayurvedic practitioners to be an extremely potent purifier, it has traditionally been used to promote healthy hair and skin, cleanse the teeth and gums, improve liver function, and detoxify the blood.
There is a large body of scientific studies supporting the medicinal use of neem.  Although all parts of the tree have been used traditionally in the treatment of inflammation, infections, and skin diseases, the neem leaf in particular has been shown to demonstrate immunomodulatory, anti-inflammatory, anti-hyperglycemic, anti-ulcer, anti-malarial, anti-fungal, anti-bacterial, anti-viral, antioxidant, anti-mutagenic and anti-carcinogenic properties.
Of course, the spiritual aspect of neem cannot be overlooked.  The tree has white, fragrant flowers which are arranged in drooping pinnacles.  These flowers are used in festivals, including Ugadi, the New Year in the Telugu and Kannada regions.  A mixture of neem flowers and unrefined brown sugar is typically prepared and offered to friends and relatives, symbolic of the sweet and bitter events in life.  During Gudi Padva, the New Year in the state of Maharashtra, a small quantity of neem juice is ingested prior to beginning festivities in order to pacify the pitta, or heat, of the summer season.  In Tamil Nadu during the summer months, statues of the goddess Mariamman are garlanded with neem leaves and flowers. Residents of Tamil Nadu also adorn their surroundings with leaves and flowers from the neem tree not only as a form of decoration, but also to ward off evil spirits and infections.
We love neem for its simplicity and its many cleansing properties.   
1www.wikipedia.org
2Subpriya R, Nagini S. Medicinal properties of neem leaves: a review. Cur Med Chem Anticancer Agents 2005 Mar 5(2): 149-156.
Save
Save
Save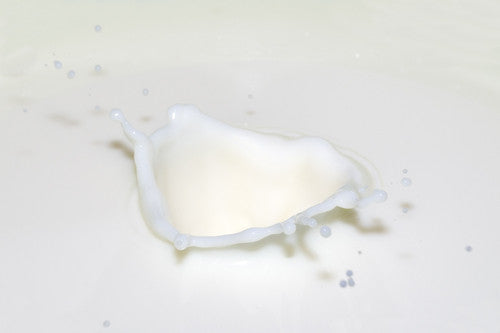 milk and milk products, such as yogurt, have been valued since ancient times for their soothing and luxurious properties. Cleopatra herself is said to have bathed in a concoction of milk and rose p...
read more